Background
A number of EU-funded Horizon 2020 research and innovation projects focus on migration and asylum, issues which remain at the top of the agenda for European policymakers and publics alike. In this new webinar series, we join forces to expand our collective knowledge base on some of today's most pressing dynamics, including protracted displacement, the notion of crisis in the field of migration and asylum, internal displacement, refugee-driven solutions, and alternatives to current migration governance. The series aims to facilitate evidence-based discussions and action at multiple levels.
TRAFIG, ADMIGOV, MAGYC, and MIGNEX are co-organizing the webinar series. We invite other H2020 projects in the field of migration and displacement research to contribute as well. Please contact us, if you wish to provide insights from your project.
The Format
With its launch back-to-back with the World Refugee Day 2020, this webinar series draws upon the research teams involved in different H2020 projects and their respective findings. The webinars will be held once a month starting in June 2020, with the lead rotating between partners. Each 90min-webinar will be conducted via the webinar platform Zoom. The audience can pose questions via the Q&A format.
The Programme
#8: A Pact with the Devil? Robust Border Management and the EU's New Pact on Migration. 31 March 2021, hosted by MAGYC
#9: Ensuring comparability in cross-national research on migration. 25 May 2021, hosted by MIGNEX
#10: Investing in refugee networks to strengthen complementary pathways. 29 June 2021, hosted by TRAFIG
#11: Revisiting protracted displacement – policies, mobility and agency. Launch of a Forced Migration Review special feature. 14 December 2021, hosted by TRAFIG
#12: Ties that bind? Opportunities and pitfalls of migrants' international networks 18 January 2022, hosted by TRAFIG
#13: The governance of exit regimes and sustainable reintegration post-exit, 25 January 2022, hosted by AdMiGov
#14: Labour market integration of people fleeing war in Ukraine: Expectations, challenges and opportunities 29 March 2022, hosted by SPRING and TRAFIG
Registration
You can register for the webinar series here. You will receive a confirmation email upon registration.
Livestream and recordings
All webinars will be livestreamed via YouTube. Follow the TRAFIG YouTube channel for all past recordings and upcoming livestreams of Zooming in on Migration and Asylum.
29 March 2022, 15:00 – 16:30 CET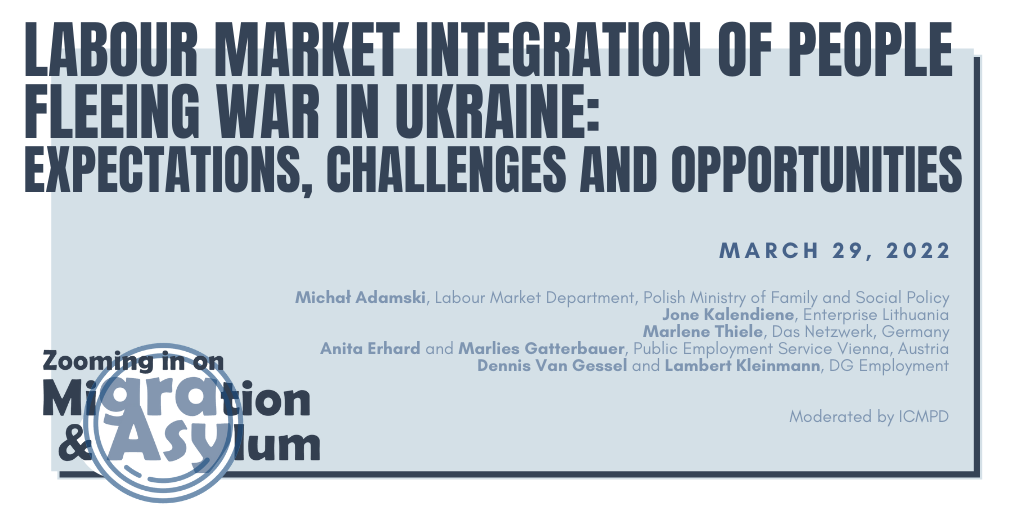 Over 3.6 million people have fled Ukraine since 24 February, with most heading to neighbouring European Union countries, and many more will be displaced as the conflict continues. The EU's Temporary Protection Directive was unanimously activated, granting benefic... Read more